Sustainability starts with us! Sustainability, Innovation and Product Development, that's what we stand for. ZeroWaste Global leads the way into a sustainable future.
World's Leading Manufacturer and Supplier
ZeroWaste is the world's leading manufacturer and supplier of natural, plastic-free Hotel and Spa Amenities.
Our product development is based on a unique understanding of people, products and sustainability.
Nature is the model from which we manufacture our products that contribute to the health and well-being of people and the planet.
Satisfying Everyone's Requirements.
We are pleased to announce our esteemed global partnership with ACCOR, a renowned hospitality organization.
Furthermore, we are delighted to inform you that our presence can now be found at the prestigious Astor Shop.
Professionals in the hospitality industry
For any inquiries or further information, please feel free to reach out to us via email.
Individual sustainable products and design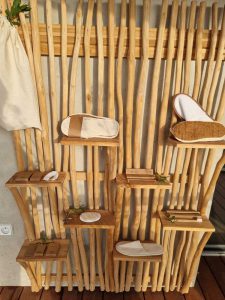 ZeroWaste Global Equipment
world's leading manufacturer and supplier
Our range of compostable products is very diverse and of high quality.
We offer:
Compostable Hotel Amenities
Natural F&B Products
Sustainable Bags
Natural Slipper TÜV Süd certified
Organic Skin & Hair Care
Natural Packaging
Plastic-free Hotel & Spa Accessories
Compostable Disposable Underwear
Biodegradable Disposable Products
Eco-Friendly & Compostable
All of our hotel & spa items are subject to the #zerowaste concept.
We offer amenities that are not intended for single use.
ZeroWaste Global products are durable, reusable, recyclable and biodegradable.
ZeroWaste Global Hotel & Spa Amenities
The original – 100% plastic-free – excellent quality.
We offer one of the largest, most versatile ranges of plastic-free products.
With years of experience in the hotel & wellness industry.
Our valued customers and partners include luxury hotels & spas around the world.
Reduce, replace and recycle your products with ZeroWaste Global.
We are proud to be able to protect the hospitality industry and the environment in this way.
We work and develop new ideas and products every day.
We know exactly what our products are made of and guarantee excellent and sustainable quality.
We work and live as sustainably as possible and thus inspire others.
The future is now! Together we can leave our children a cleaner and healthier world. Because we only have one earth, our earth. That is our goal for the future.
We are pleased to send you an individual offer. Tailored to your visions. Choose your products, material, package design and add your logo.
To ensure our goals:
WE BELIEVE IN:
Truth and transparency
Natural skin care, with ingredients that are edible
Minimalist packaging, and thus protection for our environment
Using green / renewable energy to make our beautiful products
Minimizing our water footprint
Avoidance of plastics and synthetic preservatives
Use of sustainable amenities that are compostable and do not produce microplastics

Hacks-Mühle 3
74934 Reichartshausen
Germany
(+49) 172-992 5972
info@zerowaste-global.com
@zerowasteun
@zerowaste.amenities